During this public health crisis, our office will only be able to treat patient with moderate to severe pain.  Please contact our office at (509) 248-5555 and we can determine your treatment needs.
For patients that require in clinic treatment, we will schedule an appointment for you as soon as possible, in compliance with safety protocols.
For patients with mild pain, one of our chiropractors will make at-home treatment recommendations for you via telephone.
If you have any questions, please contact our office at (509) 248-5555.  We will continue to be here to help our patients and our community.
---
We are Essential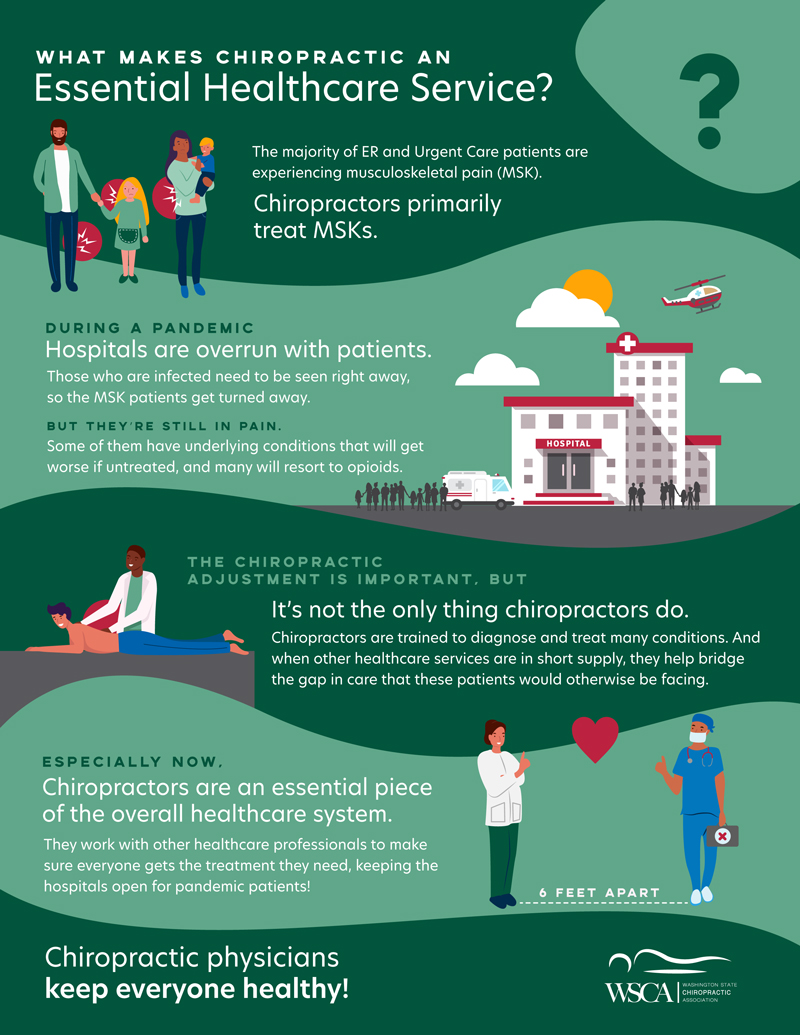 ---
Safety Measures
Our number one safety measure is to reduce interactions.   We are only treating 10% of our typical patients, thus we are able to reduce everyone's exposure risk.   We recommend homecare to 90% of our patients.
We also require that if you have any cold or flu symptoms, that you stay at home.  Please call to reschedule your appointment.  Anyone presenting with signs of flu-like symptoms at check-in will be automatically rescheduled.  We are waving all cancelation fees during this time.
We have implanted the following safety procedures:
Taking staff and patient temperatures
Hand sanitizing stations.
Touchless dispensers.
Sanitizing office and treatment tables after every patient.
Using a clean pen for each patient.
No office touchscreens for patients.
Removing magazines and kids toys from waiting room.
Enforcing social distancing.
Keeping office front door open.
Reduction in staff to essential staff members only.
Practicing safety measures with staff.
OFFICE HOURS
---
Monday
7:00am - 7:00pm

---
Tuesday
7:00am - 7:00pm
---
Wednesday
7:00am - 7:00pm
---
Thursday
7:00am - 7:00pm
---
Friday
7:00am - 7:00pm
---
Saturday
9:00am - 12:00pm